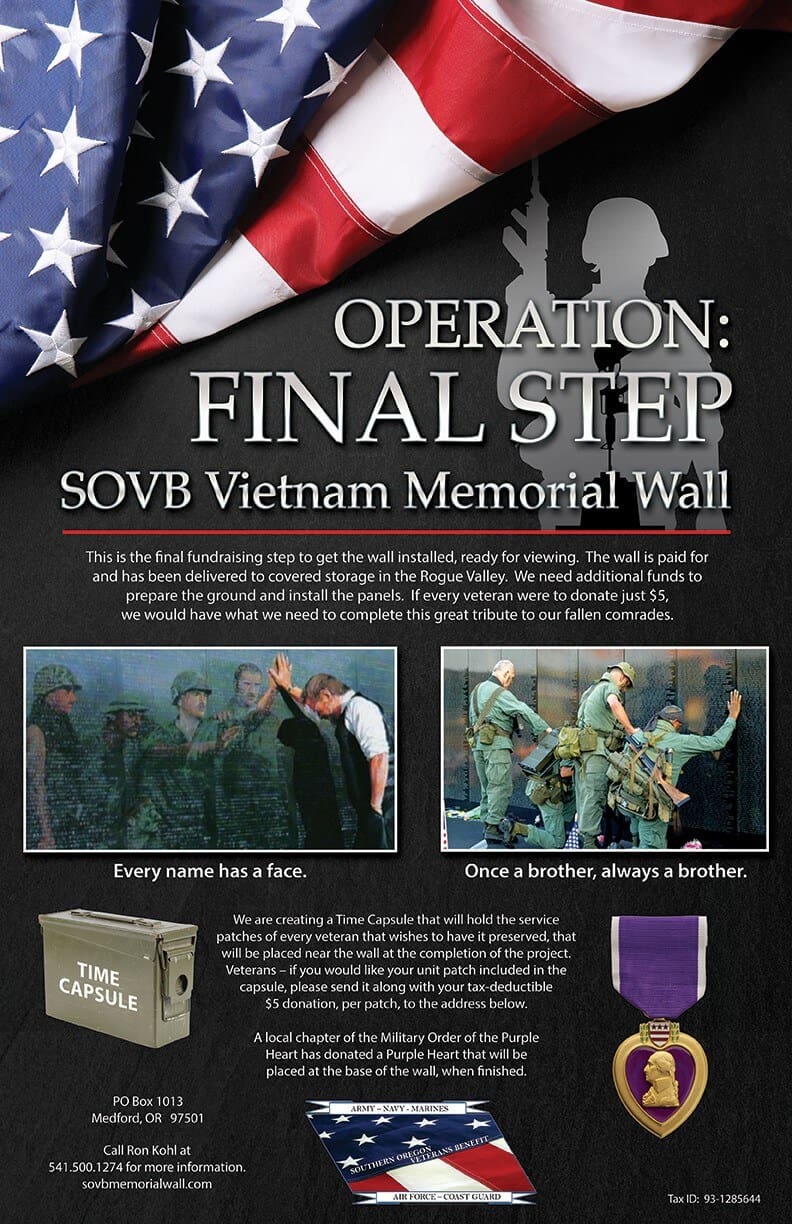 Fellow service men and women:
An effort has been on-going for many years to have a replica of the Vietnam Wall from Washington DC constructed here in Southern Oregon.  We have already purchased the 360' replica of the wall with all 58,479 names on it.  It will be the only replica with all of the names on it west of the Mississippi River.  The COVID pandemic has had a significant impact on finishing this project in as timely a fashion as we would like, but finish it we will!
The attached flyer is announcing "Operation Final Step" which is geared toward raising sufficient funds to prepare the future site and install the wall.  We are asking for a simple $5 donation from every veteran to help us reach that goal.  To sweeten the pot, we will be burying a time capsule near the Wall that will house unit patches from veterans who want to be remembered for all time.  We ask if you have a unit or organizational patch or rocker patch, donate it with your name on it and it will go in the time capsule.  We ask for $5 for each patch that you submit.
Please forward this flyer to every veteran and military or veteran organization that you know so as to spread the word and help us reach the goal.  You can mail a check made out to SOVB along with the patch or just a check to SOVB, PO Box 1013, Medford, OR 97501 or if you just wish to contribute to the cause you can go to www.sovbmemorialwall.com and use a credit card on the donate tab.  Our contractor has told us that the construction timeline is less than 120 days so there is hope to finish this project this year.  Please help with at least a $5 donation.